For many manufacturers, time and money are two of the biggest factors to consider when running a profitable manufacturing business. For Reigate-based Boxhill Joinery, their continual quest to increase productivity and tackle the growing labour shortage influenced the decision to purchase a Cube 3 four-sided planer from Weinig UK and in the process, become the first company in the UK to have the new model installed in their workshop.
"I have always seen Weinig as a brand to aspire to and as such, their machinery has always been on my radar but when I started Boxhill Joinery with my business partner, Jon, we only had £5,000 to spend on machinery," begins Ashley Hook, Director of Boxhill Joinery. "We could only afford an old sliding table saw, a spindle moulder and a manual planer and thicknesser. It wasn't a lot but it was enough to get us started. As we made more money, we'd reinvest it into the business and upgrade our machinery. Three years later, we purchased our first Weinig – a 35-year-old Profimat moulder. It might have been old but it ran smoothly and it helped us make huge strides in our production capability. Results were good and its build quality was exceptional but like all machines from the 1980's, it required a lot of manual set-up and a certain level of skill and understanding to run effectively."
In 2022, the decision was made to upgrade the Weinig Profimat to a brand-new Cube 3 four-sided planer – a model that's been proven to be ten times faster than conventional machines and requires minimal skill to operate. "Thanks to the level of automation, we experienced immediate time-savings," admits Ashely. "We no longer had to contend with manual levers or old synchro units that made dimension changes long and laborious. Instead, to plane a piece of material on all four sides in one pass, we simply had to punch in the finished size and how much we wanted to take off the bottom and side. The machine did everything else for us."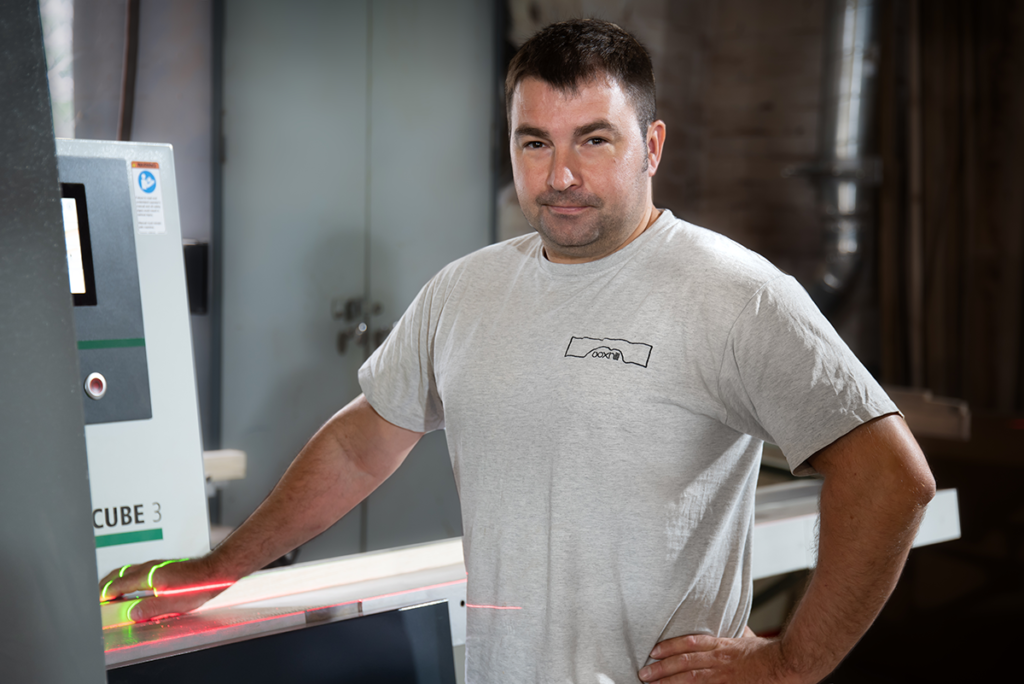 Whether machining one-off pieces, small batches or a complete project with varying size and material requirements, the Cube 3 offered the joinery company much-needed flexibility and performed the tasks easily with just one operator.
"The Cube 3's large standard working dimensions were a big selling point for us as we machine a variety of sizes," says Ashley. "Our solid wood drawer boxes measure up to 200mm wide and 13mm thick. Other furniture designs require a width of up to 260mm. The Cube 3 can work with working heights of 8-160mm and widths of 15-260mm where our old planer was restricted to a width of 210mm. This meant we would often have to join two pieces of wood together. A slight step in the join was all it took for one of my team to waste time sanding it down when they should have been moving on to the next job. We've easily saved more than 30 minutes per piece by not having to flush up a joint or put it thorough a drum sander and we've reduced labour."
Due to its simple set-up, the joinery's batch run times have been halved as oak draw boxes and Shaker door components are planed perfectly on four sides in a single pass. Intuitive operation has also made the machining of multiple sizes quicker and easier. "You don't need to wait for a piece to exit the machine before programming the dimensions of the next piece and that speeds up the operation. The machine only actions the new size once the existing piece has been completed and because the process is automated, we don't have any size discrepancies that, in the past, could have led to material wastage.
"To make life even easier, the Cube's memory function stores common sizes so we don't need to re-enter the same dimensions over and over again. And, if you think the laser is more of a gimmick than a functional feature, think again. It speeds up the measuring process no end."
The variable feed speed of 6-12m/min means it's easy to achieve a high-quality finish: "The finish you get off the machine is really nice," confirms Ashley. "We tend to run most things through on the slowest speed to minimise any chatter. This ultimately reduces the amount of hand finishing needed and increases the volume of work we can complete in a shorter timeframe."
When it comes to running costs, the plug and play machine offers excellent low-maintenance credentials: "There's next to no maintenance required – just some regular greasing and a service from Weinig once a year," says Ashley. "On the rare occasions we do need to do something, like change the reversible knives, it's really quick. We would have had to spend half a day changing the knives on our old machine but we can replace all four sets in under 30 minutes thanks to the Cube 3's EasyLock system. This doesn't just save on labour, it gives us extra machining time. It's a huge double saving.
"Like many workshops, we're struggling to employ the right people but high-quality machines can compensate for the labour shortage, ultimately shaping your workforce while increasing productivity. The Cube 3 does this exceptionally well. I have a great team of experienced joiners. I don't want their time being spent running or maintaining machines for long periods of time unnecessarily. The quicker and more efficient the machine, the better the outcome. If we get to a point where our machines are needing to be run more frequently, the opportunity to employ a lower skilled worker is now a viable option thanks to the Cube's automated machining and ease of use."
Ashley add, "As a small business owner, Weinig is only ever a phone call away. Weinig's service throughout the buying process was quick and easy and the continual support and guidance we continue to get from their after-sales team is great. We have every confidence in our Cube 3 and equal amounts of confidence in Weinig's staff. They know their products and they know what they are doing. This makes them a great manufacturer to invest in."